Disaster Response Is Teamwork!
12/4/2019 (Permalink)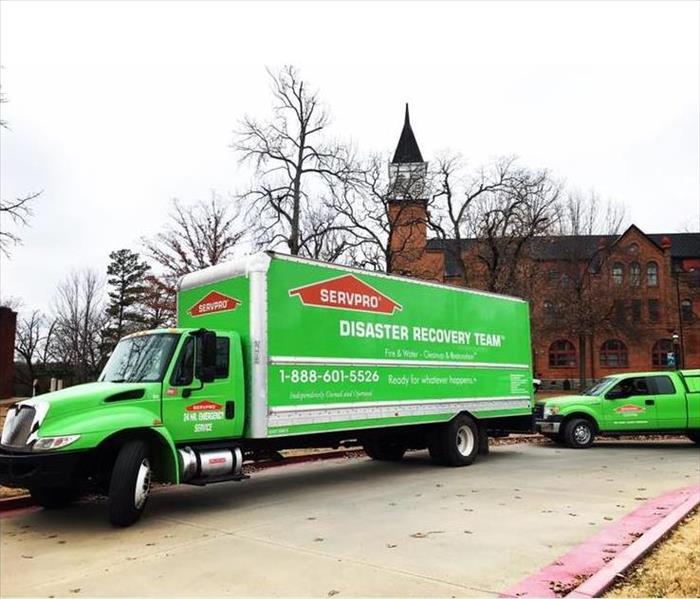 There is a cleaning and restoration business located in the Muskogee area. You see their bright green trucks at businesses and residences around town. Their advertisements talk about disaster recovery. They seem to be good at drying buildings and always have the equipment needed. They will show up at commercial and residential locations after:
Fires
Floods
storms
Mold outbreaks
SERVPRO Has a Secret Weapon
That small company is one of many similar businesses around the country. At last count, there were more than 1,700 of them. Every one of them works locally, just like the one near you. Their corporate office activates the Disaster Recovery Team. The team turns those local experts into a regional task force. The recovery team is the communications center. It coordinates the activities of the task force and temporary labor brought in to assist with the damage.
Not all emergencies require a big response. They also have smaller response teams positioned. Those teams provide the same support as the corporate team, but on a smaller scale. These storm teams also play a role in larger regional disasters. They provide an intermediate level of control and operate as mobile command centers.
You now understand what makes that small cleaning and restoration business so special. They really are disaster recovery specialists. When fire damage, water damage or bad weather affect your home, you now know who to call. Those local cleaning and restoration professionals are ready to handle your problem. When they finish with the damage, your home will feel and look "Like it never even happened."
SERVPRO of Muskogee/McIntosh Counties & Tahlequah
Give us a call 918-913-4490