Community Service Business of The Year 2018
10/12/2018 (Permalink)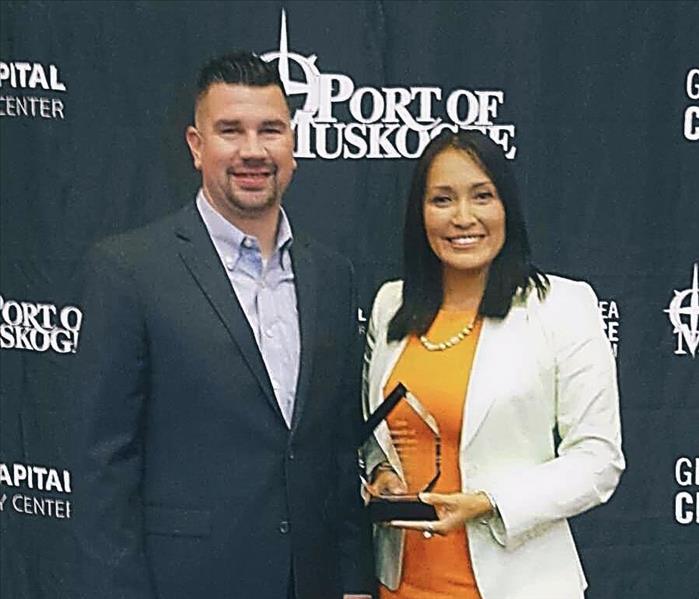 SERVPRO's Jordan Kelley and Linda Sacks accepted the award for Muskogee's Community Service Business of The Year 2018.
Mayor Bob Coburn issued a proclamation declaring the week of Oct. 8-12, as "Industry Appreciation Week" in Muskogee in celebration of National Manufacturing Month.
Last night, Indian Capital Technology Center, Port of Muskogee, and the Greater Muskogee Area Chamber of Commerce hosted the 21st annual Business & Industry Banquet and Awards Ceremony, where area businesses were recognized for their outstanding achievements over the past year.
This year, SERVPRO Muskogee/McIntosh Counties & Tahlequah earned our first Business and Industry award from Muskogee city for our efforts in community service. SERVPRO Muskogee/McIntosh Counties & Tahlequah won the Community Service Business of The Year award for 2018. We were recognized for our community contribution of over 1500 hours of community service, over $30k plus in sponsored contributions, and for partnering in special projects within the community that supported area congregations and local efforts to assist community members in need.
We are thankful for this gracious award and are glad we are able to make the contribution we can back to our communities and to the city of Muskogee. SERVPRO believes a healthy community on all levels means a healthy economy for all citizens.